Simon Mayer
Dance/Concert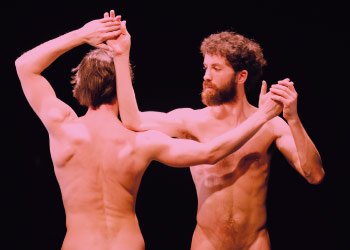 Mon 21. Sep / 20:30 h
/
Alte Feuerwache
/
Sold out
WAITING LIST/REMAINING TICKETS AT THE BOXOFFICE
13 €
(6,50 €)
Tue 22. Sep / 20:30 h
/
Alte Feuerwache
/
Sold out
WAITING LIST/REMAINING TICKETS AT THE BOXOFFICE
13 €
(6,50 €)
Three contemporary dancers, a folk musician – an experimental-folk-punk-combo Austrian style: tradition meets modernity between whip cracking, "schuhplatteln", yodeling, "paschen", folk costumes, and alpine live music. Conservative conventions of century-old customs  are deconstructed and twisted, traditional costumes exchanged for naked skin, and strong male role models mixed with classical images of women. How intimate are we with our own traditions, can we change them or are they dogmatic, and what has remained of them until today?
"Sons of Sissy" is an experimental analysis of tradition, of its nationalistic, authoritarian and conservative aspects, and an attempt to break with the traditional image of men in society in order to accept female qualities.
Choreography / music: Simon Mayer. Performance: Simon Mayer, Patrick Redl, Matteo Haitzmann, Manuel Wagner. Light design: Hannes Ruschbaschan. Sound boards and special instruments: Hans Tschiritsch. Stage / costumes: Andrea Simeon. Artistic advice: Frans Poelstra. Production management: Sophie Schmeiser. (c) Image: Rania Moslam
A co-production of Kopf hoch, brut Wien, Gessnerallee Zürich, zeitraumexit Mannheim and tanz ist Dornbirn.
Kindly supported by the Cultural Affairs Department of the Vienna City Administration, the Federal Chancellery of Austria Arts and Culture, by Kulturland Oberösterreich, Vlaamse Gemeenschap, Pianofabriek Brüssel, WP Zimmer Antwerpen, im_flieger, Kunst und Kulturverein SPIEL.
SIMON MAYER (*1984, Austria) works as a performer / dancer, choreographer and musician (band "Rising Halfmoon"). He studied at the ballet school of the Vienna State Opera, at the Performing Arts, Research and Training Studios (PARTS) in Brussels, and was a member of the Vienna State Opera Ballet.
This event is made possible by INTPA - INTERNATIONALES NETZ FÜR TANZ UND PERFORMANCE AUSTRIA of the Tanzquartier Wien funded by the BKA and BMEIA.