Freie Radikale
discussion forum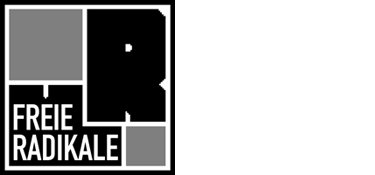 Sun 22. Sep /

16

–

18

h
/
Festival centre
Caution! New starting time!
Admission free
FREIE RADIKALE will talk about artistic and social freedom together with Alireza Varandeh (painter) and Friedhelm Hengsbach SJ (social ethician), who will report about their concept of freedom. Then the audience will choose their delegates for the following discussion.
concept: Jan-Philipp Possmann, Inka Neubert
presentation: Rita Böhmer
speakers: Alireza Varzandeh (painter), Friedhelm Hengsbach SJ (social ethician)
Since 2013 Theater Felina-Areal, Theaterhaus TiG7 and zeitraumexit are linked together as the network FREIE RADIKALE. All three theaters are independent and self-contained. They share their idea of liberal art, which define itself by programmatic and not political criteria.