Tomas Gonzalez
Performance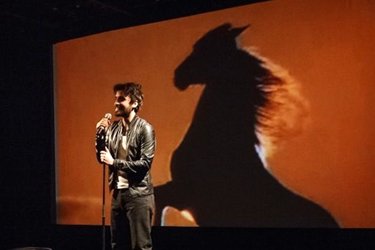 Sat 21. Sep / 22:30 h
/
Festival centre
Late Night | Tickets at the box ofice!
60 Min
/
Admission free
The project is born from the desire to think about the notion of dream life and trying to see how a dream confronts and adapts itself to daily life and to the real world. Famous songs will allow you to take your mind off the daily grind and dream a little bit. Tomas Gonzalez presents a blend of karaoke, one-man show and party for everybody to join!
Concept, performance: Tomas Gonzalez.
Sponsored by Corodis (Commission Romande de Diffusion de spectacles) and Ville de Lausanne.
After graduating in Arts from the University of Lausanne and the University of Aberdeen (U.K.), TOMAS GONZALEZ (ES/CH) joined the Conservatoire de théâtre et de musique, in Geneva. At the end of his first year, he was received at the Haute Ecole de Théâtre de Suisse romande, Manufacture, where he attended a comprehensive training led by Jean-Yves Ruf, Frederick Plazy Denis Maillefer, Christian Geffroy Schlittler and Oskar Gomez Mata among others. In 2012, he finished his studies and he is now working on developing his own projects, some of which have been played at the Festival Les Urbaines and at the Festival Les Printemps de Sévelin, both in Lausanne.
Photo: Samuel Rubio.