PME-Art / Jacob Wren
Performance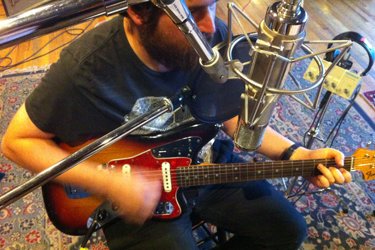 Wed 18. Sep / 19 h
/
Festival centre
Admission free
Fri 27. Sep / 22 h
/
Alte Feuerwache
13 €
(6,50 €)
At the festival opening Jacob Wren will perform a collection of songs that he wrote between 1985 and 2004. His songs are free available for download and local artists are invited to cover these songs and present them online or live on stage at the band night. Musicians will also have the opportunity for discussion with Jacob Wren himself.
Participating bands/musicians at the band night: The Alicka Problem, Ape Diem, Hans Reffert, Betina and Callahaan.

Songs: http://www.everysongiveeverwritten.com/en/
Concept, songwriting, performances: Jacob Wren, Website Design: Uniform, Website Programming: Bruno Cloutier, Recording: Radwan Ghazi Moumneh (hotel2tango), Artistic Consultant: Patricia Boushel, Technical Director: Mathieu Chartrand, Production: PME-ART, Co-production and residency: FFT-Düsseldorf, Wunder der Prärie Festival & zeitraumexit Mannheim, Baltic Circle International Theatre Festival-Helsinki, Inkonst-Malmö, Presentation and residency: Usine C-Montréal.
Supported by: the Conseil des arts et des lettres du Québec, the Conseil des arts de Montréal, the Canada Council for the Arts and the Kunststiftung NRW (Germany).
JACOB WREN (CA) is author and theater director. He is the co-founder of the Toronto Candid Stammer Theatre and since 2002 a member of the artistic directing team of the company PME in Montréal. Jacob Wren and his group PME have gained a strong reputation in and beyond Canada for their casual performance style and the subversive strength of their themes. Jacob Wren presented "Recent Experiences" (2002) at the Wiener Festwochen and "Unrehearsed Beauty" (2002) at the Prater of the Volksbühne Berlin. FFT has co-produced PME's "Families are formed through Copulation" (2005), Jacob Wren's version of "Der Tod in Rom" based on a novel by Wolfgang Koeppen (2007), as well as "Hospitality 3: Individualism Was a Mistake" (2009).
Photo: Radwan Ghazi Moumneh.