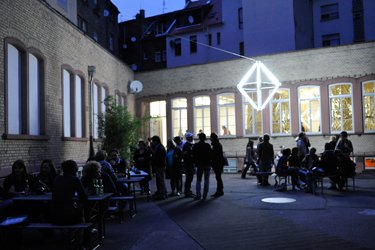 Wed 18. Sep / 18:30 h
/
festival centre
Caution! The festival will be already opened at 18 h!
Admission free
This year's festival topic "Dreaming aloud" makes big dreams come true: a wooden tank, a LEGO bricks playground, all lifetime songs, an hourglass out of rice, a strange place called Clarenville… And this is only the beginning!
raumlaborberlin (DE): "cold war / hot dogs"
Ricarda Franzen, Robert Schoen (DE): "Soziale Bausätze"
PME-Art / Jacob Wren (CA): "Every song I've ever written"
Chun Hua Catherine Dong (CA): "Hourglass"
Jost von Harleßem, Hanke Wilsmann (DE): "Clarenville"
THERE WILL BE NO BAND PERFORMANCE TONIGHT!
Music: La Route du Bonheur: David Studtrucker (guitar), Phillip Studtrucker (drums), Kevin Carter (doublebass), Florian Wehse (trumpet, vocal).