Costas Kekis, Quim Bigas Bassart
Dance performance (City)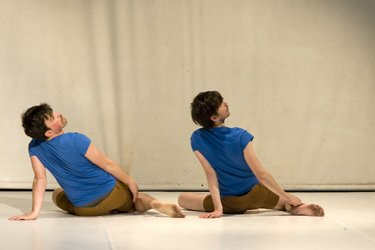 Sat 28. Sep / 21 h
/
Startpunkt Eingang Ehrenhof
ca. 45 Min
/
Admission free
Within the context of the project "Brunswick Centre 1970s", a collaborative work of Costas Kekis and Quim Bigas Bassart, the two artists realized the importance of architecture in relation to movement. They want to find "dead public spaces" in Mannheim and bring their imagination and movement to it to make the space more prevalent by their performance.
Creation and performance: Costas Kekis and Quim Bigas Bassart. Costumes have been purchased at H&M-the uniform of the world. Co-production: ttp-WUK (Vienna), Palais Kabelwerk (Vienna), Adriantic/Antic Teatre (Barcelona). With the kind support of Trigger Track Collective.
This event is made possible by INTPA - INTERNATIONAL NET FOR DANCE AND PERFORMANCE AUSTRIA of Tanzquartier Wien from funds by BMUKK and BMeiA.
COSTAS KEKIS (AT/GR) is a Greek translator, dance creator and performer based in Vienna. He is working independently as well as with Trigger Track Collective. He is a graduate of the Department of Foreign Languages, Translation&Interpreting of the Ionio University (GR) as well as a Performance and Choreography Major of Salzburg Experimental Academy of Dance, SEAD (AT).
WEB: www.contemporaryperformance.org/profile/c_kekis
QUIM BIGAS BASSART (ES) was born in Barcelona, Spain. He is artist, creator/choreographer and performer. His interest in dance lies in performing, creating and creative encounters, as well as movement research, social interactions and philosophy. He is also interested in finding connections between theory and practice, by questioning subjects that relates to performance, process and the protocols of the theater space. He currently lives between Copenhagen, Barcelona and Amsterdam.
WEB: www.quimbigas.wordpress.com
Photo: Sandra Nicolau.