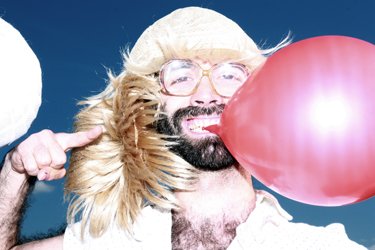 Sat 28. Sep / 22:30 h
/
Festival centre
Late night / Party afterwards. Rest-tickets at the box office.
80 Min
/
Admission free
The bastard fools are coming from the future. One million years away from our present time. They will take you on a short trip to have a look at their incredible beautiful future. You won't need anything for this journey. The bastard fools will help you. The future begins and we are starting all together. Don't worry the future is nice. 
WEIRD is what we are doing, WEIRD is who we are. WEIRD are Heiko Senst (actor, director, performer), Daniel Hinojo (performing artist), Sarah Goody (performer) und Jorgos Fokianos (dancer, actor).
Artists at the live Performance WEIRD III in Mannheim: Heiko Senst, Jorgos Fokianos, Gabriel Matthew Walsh, Özgür Erkök Moroder und Barbara Seifert.
HEIKO SENST (DE) studied at the Hochschule für Schauspielkunst "Ernst Busch" in Berlin. Since 1998 he works self employed as a director at numerous guest engagement, at film and radio and as a visiting lecturer at public drama schools.
JORGOS FOKIANOS (GR) was born in Athens. He was educated in Athens and Amsterdam as dancer and actor. His interest in art lies where the form collapses, where the communication that arises between audience and performer is on equal and non-conformist footing, in fascination of tribal feasts.
BARBARA SEIFERT (DE) studied at the Hochschule für Schauspielkunst "Ernst Busch" in Berlin. She works at engagements and also self employed at numerous german theatres and Freie Szene. She is also working as an actress in movies and was on tour with the RUSSIAN ENGINEERING THEATRE: AKHE GROUP RUSSIAN ENGINEERING THEATRE: AKHE GROUP.
ÖZGÜR ERKÖK MORODER (TR) was born in Turkey and studied visual arts, art and design. He lives and works in Berlin. He participates at numerous group exhibitions in Berlin, Basel, and presents also his own work and performances in Turkey. Since 2012 he is joining the "Underconstruction-Berlin", Apartment Project.
GABRIEL MATTHEW WALSH
Photo: Dragos Ardeleanu.