Dragana Bulut
Performance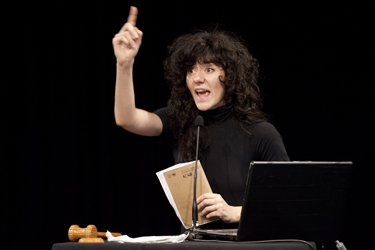 Fri 20. Sep / 22 h
/
Festival center
Late Night | Tickets at the box office..
105 Min. mit Pause
/
Admission free
"Pass it on" is a performance realized as an auction. It deals with the question of authorship, the relation between the material and the immaterial and the value of the artistic object. A set of rules and a registration form are available before the show. By registering you will receive a bidding number and become the potential owner of the items presented at the auction.
Author: DraganaBulut, Collaborators: Maria Baroncea, Sheena McGrandles, Alex Baczynski-Jenkins, Ligia Soares, Drinka Bulut, Nina Kurtela, Will Ralws, Dramaturgy advice: Ana Vujanovic.
Supported by the NATIONALES PERFORMANCE NETZ (NPN) Guest Performance Fund for Dance, which is funded by the Federal Government Commissioner for Culture and the Media on the basis of a decision by the German Bundestag.
DRAGANA BULUT (RS) works with choreography and dance. She is from Belgrade and lives in Berlin, where she graduated from MA studies Solo/Dance/Authorship at Hochschulübergreifendes Zentrum Tanz Berlin. Since 2006 she develops her own choreographic work, which was presented in various national and international contexts. She won the Prix Jardind'Europe 2010 European Prize for Young Choreographers and received 2004 and 2008 the DanceWeb Europe Scholarship. She is also a member of the Station-service for contemporary dance Belgrade.
Photo: Hagolani.