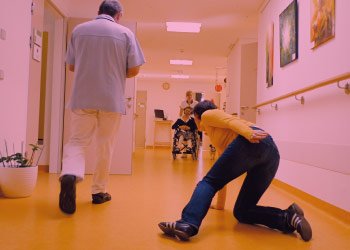 What remains of an art form called dance? It cannot be captured. Only by doing it over and over again, by doing it practically, it can be found. For the project "Was bleibt?" ("What remains?"), the Austrian artist is dancing the same choreography in different public and private places since 2004 – always accompanied by the cameraman Jack Hauser. The question of what remains gains special relevance when posed in a hospice. Milli Bitterli dances her choreography there as well, and shows, how dancing is able to create prospects in a mostly socially tabooed place. The encounter with the people in the hospice Mödling has curbed the self-evident, continuous movement choreography and added to the question "what remains?" the question "what is?".
Wunder der Prärie shows a fusion of film and live performance by the artist.

Concept / performance / video: Milli Bitterli. Camera: Jack Hauser. Project assistance: Frans Poelstra. (c) Image: Jack Hauser.
Made possible by the association hospice Mödling (Regina Reindl) and the hospice department of the nursing home Mödling (Christine Beyer).
MILLI BITTERLI studied classical dance at the Conservatory of Vienna and the Vienna State Opera. In 2000, she founded the company "artificial horizon". From 2001 to 2003, she worked as an artistic director in the area of training and workshops at the Tanzquartier Wien.
This event is made possible by INTPA - INTERNATIONALES NETZ FÜR TANZ UND PERFORMANCE AUSTRIA of the Tanzquartier Wien funded by the BKA and BMEIA.