Doris Uhlich, Michael Turinsky
Dance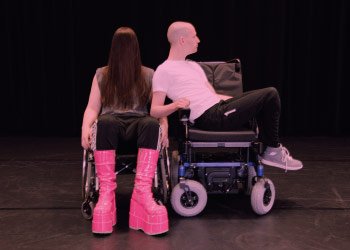 Wed 23. Sep / 21 h
/
zeitraumexit
/
Sold out
German premiere
WAITING LIST/REMAINING TICKETS AT THE BOXOFFICE
13 €
(6,50 €)
Rave and techno beats, sheer ecstasy and a powered wheel chair mutating into a rave machine. Doris Uhlich samples, amplifies and translates the mechanically induced sound of her partner's wheel chair into heavy basslines, thus creating an energy capturing the physically disabled dancer and choreographer Michael Turinsky until his wheel chair becomes a rave machine which multiplies every movement and visualizes each beat through the body. Since her production "more than naked", Vienna- based Uhlich is looking for movements in which energy triumphs over form, thought, rules and norms. Yet  the center of this work is the combination of human being and machine, not the dancer's non-corresponding to norm, his physical limitation nor is it an attempt of inclusion.
Concept / idea: Doris Uhlich. Choreography / performance: Doris Uhlich, Michael Turinsky. Sound advice: Boris Kopeinig. Light design: Gerald Pappenberger. Production: Theresa Rauter, Christine Sbaschnigg. (c) Image: Theresa Rauter.
A production by insert (Theaterverein) with WUK performing arts.
Kindly supported by the Cultural Affairs Department of the Vienna City Administration.
DORIS UHLICH is a choreographer, performer and dance teacher and has realized her own stage projects since 2006. MICHAEL TURINSKY is physically disabled since birth. He lives and works as a philosopher, independent author, choreographer and dancer in Vienna. "Ravemachine" is their first joint project.
This event is made possible by INTPA - INTERNATIONALES NETZ FÜR TANZ UND PERFORMANCE AUSTRIA of the Tanzquartier Wien funded by the BKA and BMEIA.