Chun Hua Catherine Dong
Performance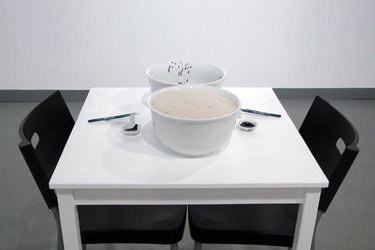 Wed 18. Sep / 19 h / Festival centre
Festival Opening / Admission free
---
Thu 19. – Sun 22. Sep / 17–21 h / Festival centre
Continuous admission / Admission free
"Hourglass" is a rice-based performance. The action of constantly painting white rice with black ink is a metaphor of the hourglass that requires rotation to make the sand flow. As a political gesture, a democratic process of negotiations between citizens and established power, the performance invites citizens to meditate their situations, while working together on creating an equal and balanced world.
Concept and performance: Chun Hua Catherine Dong.
CHUN HUA CATHERINE DONG (CA) is a Chinese-born performance artist living in Canada. "Hourglass" is the fourth rice performance within a serie to renew her lost tradition and culture. For Dong Life itself is a performance, which she considers as an attitude rather than a medium, an ideology rather than a style, a situation rather than an action. She has been invited to perform internationally and her performance is listed the "top nine amazing political art projects of 2010" by Art and Threat Magazine.
Photo: Jame Zhang.