Stefan Römer
Photography exhibition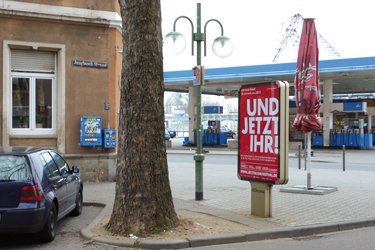 Fri 20 Sep / 19 h / Galerie Stoffwechsel
Vernissage / Admission free
---
Sat 21 Sep – Sat 2 Nov / Tue, Thu, Fri, Sat 16 – 21 h / Galerie Stoffwechsel
Admission free
The signs of topless bars, graffiti and the red-light district are slowly vanishing. The Jungbusch is changing into a multicultural trendy neighbourhood full of shopping malls and luxury apartments. Stefan Römer wants to document the characteristic qualities of this working-class area before they all disappear.
STEFAN RÖMER (DE) grew up next to the US barracks in Mannheim-Seckenheim in 1970-1976. He works as an artist in the fields of de-conceptual art and documentary, critic of the public space, relation of picture and text in art and new media, cross cultural subjects and has regularly international exhibitions and publications. In 2000 he was awarded with the price for "Kunstkritik des Arbeiterkreises deutscher Kunstvereine (AdKV)". In the 1980s he worked with performance and painting. In the 1990s he developed activities, movies, lectures concerning urbanism, art and economy criticism in Cologne with his activistic group "FrischmacherInnen".
Photo: Stefan Römer.