Chido Johnson (US)
Workshop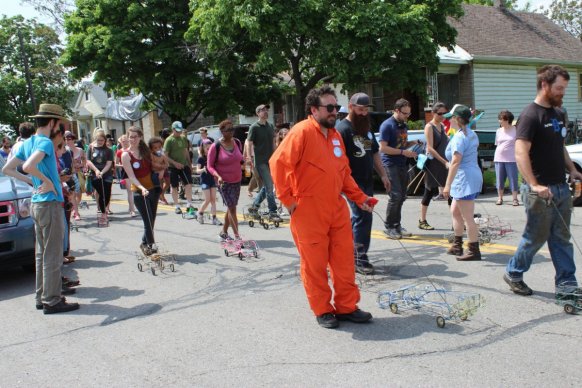 Thu 19. Sep /

16

–

21

h
/
zeitraumexit
Admission free
Fri 20. Sep /

16

–

21

h
/
zeitraumexit
Admission free
Sat 21. Sep /

10

–

16

h
/
zeitraumexit
Admission free
Over the last years, Detroit visual artist Chido Johnson has been building wire cars with the citizens of the legendary Motor City. The cars are modeled after the toys from Johnson's native country Zimbabwe and at the same time represent the city's industry's promises of wealth and luxury. In this workshop the participants build wire cars after their favorite car models and take them to the Mannheim streets in a choreography to Motown soul music.
The Wire-car Auto Workers Association of Detroit (WAWAD) is coming to Mannheim! Founded in 2011 in the legendary Motor City with more than 300 members, it's the new green car and health plan in one! Pick up a stick, and take your wire-car for a cruise in your neighborhood! 
WAWAD General Manager and Mechanic, Detroit artist Chido Johnson, will be running workshops in our own Manhheim Wirecar Mechanic Shop off --- street.  Wire-cars were popular in Chido's childhood in Zimbabwe and similar in other forms globally. Participants will build their own wire-car at the local Wirecar Mechanic Shop, turn up their speakers and cruise in our streets…
The workshop is open to all, no prior experience necessary.