Claudia Bosse / theatercombinat
Installation or/and Performance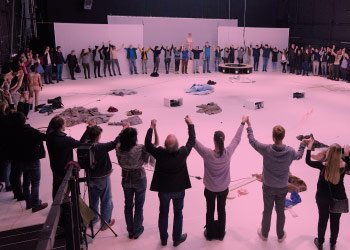 Sat 19. Sep / 20 h
/
Former Video Library, Meerfeldstraße 55
/
Sold out
Performance Version I
REMAINING TICKETS AT THE BOXOFFICE

13 €
(6,50 €)
Tue 22. Sep /

17

–

20

h
/
Former Video Library, Meerfeldstraße 55
Admission free
Wed 23. Sep /

17

–

20

h
/
Former Video Library, Meerfeldstraße 55
Admission free
Thu 24. Sep /

17

–

20

h
/
Former Video Library, Meerfeldstraße 55
Admission free
Fri 25. Sep / 20 h
/
Former Video Library, Meerfeldstraße 55
Performance Version II
REMAINING TICKETS AT THE BOXOFFICE
13 €
(6,50 €)
The performances in the installation take place at Saturday 25.9. (Version I) and Friday 25.9 (Version II) at 8 o'clock.
Furthermore the installation is freely accessible on the dates mentioned above. The performance language will be partly english, partly german.
catastrophic paradise is a composition of variations about paradise as a guarded enclosure, about the deluge as a violent reset of society, and about abandoned areas, about the margins of society revealing more about this society than its center; it is a composition about cannibalism as a condition in which the human being eats itself: an approach to the (post)colonial condition of the world. Religion appears as timeless cypher and political background for excluding the "others".

An accessible performative landscape of installative objects, rituals, voices, choreographies and sound-compositions by Günther Auer, a space shared between the audience and an international company of dancers and performers. Furthermore, statements about revolution, civil war, terrorism, and democracy taken from interviews Claudia Bosse has conducted in New York, Beirut, Tel Aviv, Tunis and other places since 2011.
Texts by Montaigne, documents by General Butt Naked, reports about a plane crash in the Andes with subsequent cannibalism as well as extracts of the Genesis become embodied through choral and monologic speech acts.
The world premiere took place in Düsseldorf in a former theater and cinema. In Mannheim, the work will be adapted to the special requirements of a former video library.
The installation in the performance space as well as parts of the interview collection are open for visitors during the festival.
The artists continue their work on the project in Mannheim. The second performance offers a revised version of catastrophic paradise.

Concept / choreography / installation: Claudia Bosse; sound / video editing: Günther Auer; by / with: Nathalie Rozanes, Alexandra Sommerfeld, Florian Tröbinger, Elizabeth Ward, Marco Tölzer; special guest: Ilse Urbanek; dramaturgy: Kathrin Tiedemann; technical direction: Marco Tölzer; clothing: Lila John, Ronja Stahl; assistant: Constantin Schädle; production management: Anna Etteldorf and Margot Wehinger, artistic management: Silke Bake.(c) Abb.: Eva Würdinger.
A co-production by theatercombinat and FFT Düsseldorf. Supported by Kunststiftung NRW within the framework of the series "DECOLO-NIZE! performative strategies for a (post)colonial age" and NPN NA-TIONAL PERFORMANCE NETWORK, co-production fund for dance fi-nanced by the Federal Government commissioner for Culture and  Media (BKM) on the basis of a decision made by the German bun-destag and by Wien Kultur.
This performance has been made possible by the NPN NATIONAL PERFORMANCE NETWORK, guest-performance fund, financed by the federal government commissioner for culture and the media as well as the federal state ministries for cultural and artistic affairs.
theatercombinat is a production company for independent art and theater work, directed by CLAUDIA BOSSE. She assembles actors, performers and dancers as well as theorists, sound and media artists, architects, visual artists and technicians in order to engage in research into theatrical concepts, pushing theatre beyond its limits in search of new ways to communicate with the audience, the space and the organisation of the public.
This event is made possible by INTPA - INTERNATIONALES NETZ FÜR TANZ UND PERFORMANCE AUSTRIA of the Tanzquartier Wien funded by the BKA and BMEIA.